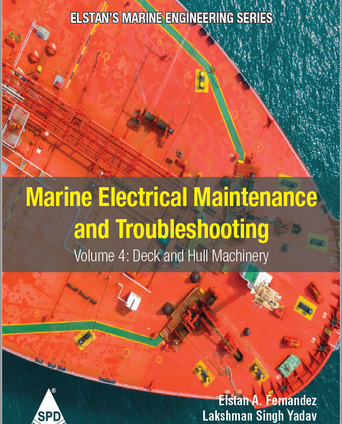 Marine Electrical Maintenance and Troubleshooting Volume 4: Deck and Hull Machinery
This book is an important document for a Marine Engineer or Electrical Officer who is keen to understand the nuances of maintaining and troubleshooting deck machinery and hull equipment. It starts with safe practices for hydraulic systems as most of the deck systems are very heavy-duty types.
It is suitable for most of the common types of vessels such as container ships, general cargo vessels, tankers etc.
The chapters with are listed below:
| | |
| --- | --- |
| Chapter No. | Title |
| 1 | Hazards with Hydraulics and Safe Practices |
| 2 | Maintenance and Troubleshooting of Hydraulics |
| 3 | Steering Gear |
| 4 | Bow Thrusters |
| 5 | Main Cargo Crane |
| 6 | Monorail Crane |
| 7 | Hose Handling and Provision Cranes |
| 8 | Pumps |
| 9 | Electrically-driven Deck Machinery |
| 10 | Oil Discharge Monitoring and Control System |
| 11 | Axial Flow Fan |
| 12 | Air Conditioning System |
| 13 | Refrigeration System |
| 14 | Explosion-proof Equipment |
| 15 | Tank Radar |
| 16 | Gas Detection Systems |
| 17 | Fire Detection Systems |
| 18 | Galley Equipment |
| 19 | Sewage Treatment Plants |
| 20 | Lifeboats |